The York Rail Innovation Community exists to connect the depth of rail expertise in York with each other, and with innovative capabilities outside of the rail sector.
We were formed by a group of people working in a wide variety of rail roles, all based in York who all felt we could leverage and support the depth of local knowledge and expertise better. We're an informal community, not seeking to make a profit out of YoRIC, and aiming that our events will be free to participants.

Our launch event in February 2019 was attended by nearly 100 people. Building upon the themes and aspirations from that event we are focused around three main areas: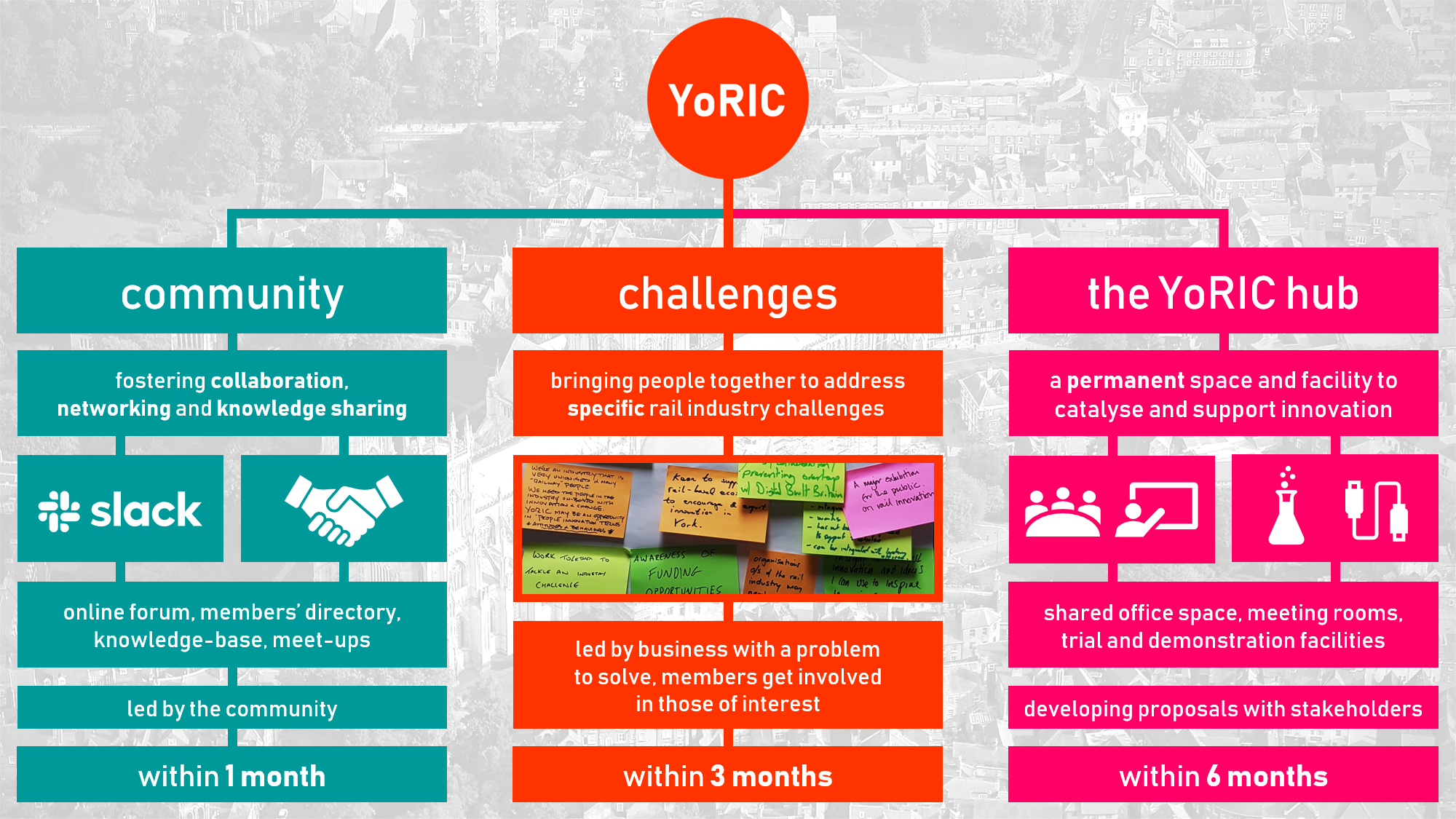 Community:
Fostering local collaboration, networking, and knowledge sharing.
A mix of an online forum, and quarterly meet-up events
Community lead
Challenges:
Leverage the community to address specific rail industry challenges
Enabling those organisations within the industry with business opportunities and issues to challenge the community to help solve them.
Build on momentum created by initiatives such as Innovation in Franchising and innovation funds.
Hub:
Champion the case for a permanent space and facility in York to catalyse and support innovation.
Seeking co-working space and meeting facilities, but also access to rail facilities such as vehicles and track to make practical demonstrations simpler
Who is YoRIC for?
The industry – TOCs, FOCs, ROSCOs, infrastructure.

Hear about initiatives from other sectors and connect with potential partners

Newcomers – businesses with innovative ideas looking to enter rail.

Showcase innovations delivered in other sectors and to understand & connect with the rail industry

Existing suppliers.

See the wider industry context and connect with potential partners

Funders – those looking to invest in rail innovation.

See opportunities to invest and drive awareness of innovation funds
Why York?
A local focus to catalyse local collaboration, but welcoming participation from across the wider region
Growing and diverse community of rail innovators.
A city shaped by the railway revolution at the heart of the rail network.
Why are we different?
Local focus – we are centred on York, though all are welcome.
Depth and breadth of expertise.
Real innovation – not just mobile apps and fizz.
Cross domain – seeing the wider picture.
Members who are willing and able to take ideas and make them happen.
Interested?
Who's involved?